Smart Devices
for Healthy Living
Bringing you Smart Health Devices
Click to play the corporate video clip
Mission
Our Mission is developing products dealing with three social problems which cause "undiseased".
Polluted
Air and Water
Living in a place where air is polluted typically by PM2.5 effects human health.
Weak
Family ties
Care about each other.
Communication among family members is an important factor which prevents the "undiseased".
Improper
Living Habits
Lack of sleeping and disordered eating are typical Improper Living Habits of busy people.
Participating in the 2016 LPGA tour!
E3 is supporting professional lady golfer Rie Tsuji
We impressed by her positive and sincere attitude to golf, and looking forward to her further progress to the next level.
Contact us
Please feel free to contact us
For inquiries about products or our company, please send it from here.
* Personal information (name, mail address) inside inquiry is ONLY used for communicating the inquirer, NOT for other purpose.
Company
Tokyo
E3 Enterprise
32F, Shinjuku Nomura Buidling, 1-26-2
Nishi-Shinjuku, Shinjuku-Ku
Tokyo 163-0532, Japan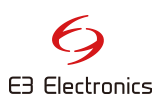 Shanghai
E3 Electronics
15F L'Avenue Shanghai, No. 99
XianXia Road, Changning District
Shanghai, P.R. China 200051